Skeptic Summary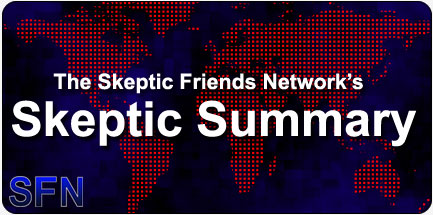 Skeptic Summary #128
By The Staff
Posted on: 2/4/2007

McCain, the universe, evidence, blackmail, the whore, warming ID and more!



Week ending February 3, 2007 (Vol 4, #5)


Welcome to the Skeptic Summary, a quick week-in-review guide to the Skeptic Friends Network and the rest of the skeptical world.

Forum Highlights:
Is McCain the real McCoy? - McCain acting like a politician? Who'd a thunk it?

The 'now' is the edge of the universe… - Ooooooo. Immobile light and an assertion that Einstein was wrong.

Overwhelming evidence? - Of what, we're not sure.

Editor's Choice: Flying cars stifled by politics, politics, and war - Or, a primer in the extortion of strangers on the Internet.

From the Archives: Babylon, the Great Whore! - Another Verlch classic!
Kil's Evil Pick:
Global Warming, Intelligent Design and the Re-Ascendancy of the Pro-Scientific Political Left
Chat Highlights:
Sunday: A 12-year-old atheist; Aussie visitor; Kil's visit to TAM5, meeting cool people; how about inviting Hovind to a written debate now that he's got plenty of time (5-10 years)? Sylvia Brown is bleeding, but is it blood or money? Boron10 in trouble stranded on Hawaii; Siberia makes art; FSTDT provokes aggressive emotions; switching time and date to a global standard.

Wednesday: The night started with Mab creating an accidental sock puppet. How he did so is still a mystery. Then, phpBB methods of authentication and bad jokes, as well as perhaps one good one. The conversation switched over to cars as Dave shows how you can fix problems by oiling belts. This quickly turned to computer talk once JohnOAS started having Java problems. Chat ended with Kil telling some stories of TAM5, and a quick discussion on 'net neutrality.

Come chat with us.
New Members This Week:
TRSPxRX
sara111
Byron

(Not a member? Become one today!)
---
Elsewhere in the World:
Bad Science

Found: Most of the Universe

What's New by Bob Park

Got some skeptic news items? Send them to us, and we'll think about adding them.
Book of the Week…
…is on vacation this week.
---
This Week's Most-Viewed Pages:
Forum Topics:

Articles:

There were 5,642 daily visitors this week.
Last Month's Most-View Pages:
Forum Topics:

Articles:

There were 22,903 daily visitors in January.
---
More issues of the Skeptic Summary can be found in our archive.

The Skeptic Summary is produced by the staff of the Skeptic Friends Network, copyright 2007, all rights reserved.
---
Read or Add Comments about the Skeptic Summary
Back to Skeptic Summary