Skeptic Summary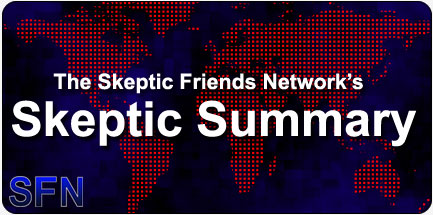 Skeptic Summary #188
By The Staff
Posted on: 5/4/2008

Phelps, PZ, revisions, atheism evolving, the price for one's integrity, the sleep cost of an ex and more!



Week ending May 3, 2008 (Vol 5, #16)


Welcome to the Skeptic Summary, a quick week-in-review guide to the Skeptic Friends Network and the rest of the skeptical world.



Forum Highlights:
Phelps in it now - Can anyone loan Fred five million bucks?

PZ's Playhouse - Complete with potty humor.

Religious Revisionism - The author of the eleven-year-old note becomes an SFN member!

Editor's Choice: Atheism is dead - Or, maybe not.

From the Archives: Evolving Planet - Another Bill scott objection to the notion of an old Earth.

This Week's Poll:
Name your price

Kil's Evil Pick:
The Sleep-Retardant Properties of My Ex-Girlfriend. A study by by Ryan Shaun Baker, Human-Computer Interaction Institute, Carnegie Mellon University, Pittburgh, Pennsylvania.

The importance of a good night's sleep can not be overestimated. Getting more than 7 hours of sleep a night helps in retention and deep encoding of information, which is essential in graduate school. Also, getting sufficient amounts of sleep results in a better mood and a greater level of happiness.

Given this, I decided to conduct a study on those factors which influenced the amount of sleep I was getting, in order to determine how to get more sleep…

This study speaks for itself.
SkeptiQuote:
Everyone is entitled to his own opinion
but not his own facts.
— Daniel Patrick Moynihan

Chat Highlights:
Sunday: Our chat host may be returning to work on May 4th!

Wednesday: Several people were napping when chat began, so things started up late. A small discussion on cliche greetings and how much of a prick Ben Stein really is. Things drifted around a bit till some realized how tired they were getting of IDers, creationists, and their ilk. There was reminiscing of members longs gone, both skeptical and not. Chat worked its way back to politics before talking more about Expelled.

Come chat with us.

New Members This Week:
dtsaad
Simon
diegorubens
DtheB
yipiia
themadlolscientist
davidannis
Michael Edmondson

(Not a member? Become one today!)
---

Elsewhere in the World:
20 Things You Didn't Know About… Recycling

Free Speech and Free Trade: Regulating Psychics and Other Spiritual Services

Squeaking By in Florida

The missing finger that never was

What's New by Bob Park

Got some skeptic news items? Send them to us, and we'll think about adding them.

Book of the Week:
Snake Oil Science: The Truth about Complementary and Alternative Medicine, by R. Barker Bausell.





"A biostatistician, author and Senior Research Methodologist at the University of Maryland, Bausell looks at the alternative methods used by more than 36 percent of Americans to treat pain and illness by posing the question, 'Is any complementary and alternative medical therapy more effective than a placebo?' In short, his answer is no; what, then, is actually happening in patients (and professionals) who swear by the medical utility of such complementary and alternative medicines ('CAMs') as acupuncture, deep breathing exercises and megavitamin therapy? Step by step, Bausell builds a rigorous case against CAM, beginning with a look at the history of CAMs and placebos, then the 'poorly trained scientists' and flawed studies (among more than 300 analyzed for this book) that have historically supported CAM's efficacy. A breakdown of the placebo effect's hows and whys follows (are people hardwired for susceptibility?), along with a look at 'high-quality studies' and 'systematic reviews' (including an Italian study that finds natural opioid secretion in the brain responsible for the perceived benefits of placebos) which largely support Bausell's answer. Entertaining and informative, with plenty of diverting anecdotal examples, Bausell offers non-professionals and pros a thorough look at the science on CAM, along with a complementary lesson in the methods of good medical research."

— Publishers Weekly
---

This Week's Most-Viewed Pages:
Forum Topics:

Articles:

There were 16,257 daily visitors this week.
Last Month's Most-Viewed Pages:
Forum Topics:

Articles:

There were 47,566 daily visitors in April.
---
More issues of the Skeptic Summary can be found in our archive.

The Skeptic Summary is produced by the staff of the Skeptic Friends Network, copyright 2008, all rights reserved.
---
Read or Add Comments about the Skeptic Summary
Back to Skeptic Summary