Skeptic Summary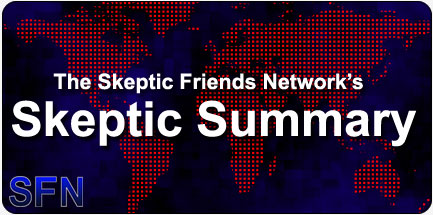 Skeptic Summary #215
By The Staff
Posted on: 12/6/2008

Billboards, try your luck, meaningless death, important stuff, rotten stuff and more!



Week ending December 06, 2008 (Vol 5, #43)


Welcome to the Skeptic Summary, a quick week-in-review guide to the Skeptic Friends Network and the rest of the skeptical world.



Forum Highlights:
City sued over billboard removal - The message is in the denial.

SFN 2009 Psychic Contest, Enter by Feb1, 2009! - Test your psychic abilities in a contest that Sylvia Browne won't even enter.

'Under God' pastor dies - Poor guy.

Editor's Choice: Dembski recants - This is important stuff.

Kil's Evil Pick:
Rotten dot com — Okay, there are parts of this site that I wouldn't really recommend to anyone. Here is what they say about their site:

The soft white underbelly of the net, eviscerated for all to see: Rotten dot com collects images and information from many sources to present the viewer with a truly unpleasant experience.

And I suppose that's true. But it's also a pretty good skeptical site when viewed from a certain angle. For example, I found the Mad Science section under their Library Link and it's just chock-full of great biographies like this one on Dr. Phil. (Yeah, I know they have one on Freud too. But then, I am not claiming that the site is consistent and anyhow, skeptics love to hate Freud.) Once again, go and click around. You will be appalled or delighted depending on where you land…
SkeptiQuote:

[Theologians] begin by noting how improbable the existence of human beings would be if God did not exist. And from this fact alone they conclude that God exists… The premise of this theological argument, that human existence is unlikely, is true. But it provides no ground for believing in God… If it were valid we could conclude, without the aid of any evidence, that all lotteries are rigged.

— Jamie Whyte

Chat Highlights:
Sunday: Milk in the coffee, or something else. Winter is coming in the northern hemiphere, in some places more than others. Loss of traffic at the Skepticality Podcast Forum. Is the increase in smilies use slowly replacing good language skills? Food: edible or otherwise, like the Swedish lutfisk or surströmming. A new skeptics society in Saskatoon. Deja moo.

Wednesday: Probably one of the longest chats thus far, stretching all the way to 4 AM. Chat began with Mythbusters, ripping phone books, and forum talk. Much of chat focused around Paranormalia, and don't miss the "Reply to Skeptics." Then the upcoming TAM7, travel plans, and driving to spend time with your family. School and mathematics was next, along with suggestive pictures and more on James Randi. We also welcomed back Wolfe604, who dropped in after more than seven years of absence. The night ended after discussing Creationism and evangelical skepticism.

Come chat with us.

New Members This Week:
UniConst
DHornsby

(Not a member? Become one today!)
---

Elsewhere in the World:
It's not what the papers say, it's what they don't

Skepticality #90 — This One Time at Skepticamp…

What's New by Bob Park

Win Ben Stein's mind

Got some skeptic news items? Send them to us, and we'll think about adding them.

Book of the Week:
Trick or Treatment: The Undeniable Facts about Alternative Medicine, by Simon Singh and Edzard Ernst.





"The truth about the potions, lotions, pills and needles, pummelling and energizing that lie beyond the realms of conventional medicine.

Whether you are an ardent believer in alternative medicine, a skeptic, or are simply baffled by the range of services and opinions, this guide lays to rest doubts and contradictions with authority, integrity, and clarity. In this groundbreaking analysis, over thirty of the most popular treatments — acupuncture, homeopathy, aromatherapy, reflexology, chiropractic, and herbal medicines — are examined for their benefits and potential dangers. Questions answered include: What works and what doesn't? What are the secrets, and what are the lies? Who can you trust, and who is ripping you off? Can science decide what is best, or do the old wives' tales really tap into ancient, superior wisdom?

In their scrutiny of alternative and complementary cures, authors Simon Singh and Edzard Ernst also strive to reassert the primacy of the scientific method as a means for determining public health practice and policy."

— Book Description
---

This Week's Most-Viewed Pages:
Forum Topics:

Articles:

There were 10,675 daily visitors this week.
Last Month's Most-Viewed Pages:
Forum Topics:

Articles:

There were 35,889 daily visitors in November, 2008.
---
More issues of the Skeptic Summary can be found in our archive.

The Skeptic Summary is produced by the staff of the Skeptic Friends Network, copyright 2008, all rights reserved.
---
Read or Add Comments about the Skeptic Summary
Back to Skeptic Summary