Skeptic Summary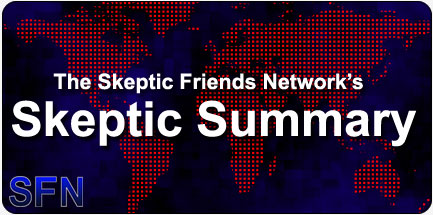 Skeptic Summary #307
By The Staff
Posted on: 11/6/2010

Sagan Day, Election Day, shouting day, rally day, ass day, NASA day and more!



Week ending November 06, 2010 (Vol 7, #42)


Welcome to the Skeptic Summary, a quick week-in-review guide to the Skeptic Friends Network and the rest of the skeptical world.

Don't forget that November 9th is Carl Sagan Day.



Forum Highlights:
Election day - Denial of reality, or does civility mean "please don't tell the truth, it hurts."

The God-Science shouting match - Depends on your perspective, and who you're listening to.

The Rally to Restore Sanity and/or Fear - Drew a lot more people than expected.

Editor's Choice: Expanding Earth my ass - My ass may be expanding, but the Earth? No.

Kil's Evil Pick:
NASA KIDS' CLUB — Here's a nice little site for kids from NASA. Yes, you're right. This is not my usual sort of pick, but hey, some of you skeptics have kids, right? With tons of information and fun ways to learn about our universe, including games and other activities, this site just might just lure your kids away from the television and/or video games for a few minutes. Heck. I had fun goofing around with some of the games. I wish this site had been around when my kids were growing up. And of course, for the not-so-young kids, there is the whole rest of the NASA site to play with!
SkeptiQuote:

Science is nothing but trained and organized common sense differing from the latter only as a veteran may differ from a raw recruit: and its methods differ from those of common sense only as far as the guardsman's cut and thrust differ from the manner in which a savage wields his club.

— Thomas Henry Huxley

Chat Highlights:
Wednesday: Chat drew a pretty big crowd this week, including some people we haven't seen for a while on Wednesday night, like Mooner and Norm. Naturally, we talked about the elections, the economy, various subjects of concern to skeptics, and a few things that have nothing to do with skepticism at all. In other words, it was chat as usual.

Come chat with us.

New Members This Week:
softlove365
Wilbur

(Not a member? Become one today!)
---

Elsewhere in the World:
'Balloon head' dolphin discovered

Black magic behind illegal owl trade in India

Chupacabra Science: How Evolution Made a Mythical Monster

Denver's ET Vote: UFO Commission Proposed

Do Power Balance wristbands work?

Electric current to the brain 'boosts maths ability'

F*cking Vaccines, How Do They Work — part 1

F*cking vaccines, How Do They Work — part 2

F*cking vaccines, How do they work! — part 3

F*cking vaccines, How do they work! — part 4

Good scientific research often ends up making a glorious mess

Happy Carl Sagan Day, everybody

Miniature livers 'grown in lab'

NHS funding for homeopathy risks misleading patients, says chief scientist

Safe and Effective Vaccines

Scalia: Many Atheists Irrational

A Skeptic With A Cold

The Skeptic's Dictionary Newsletter #121

Skepticality #141 — The Amazing Story of Quantum Mechanics

There Is No Mercury in Vaccines

Time to kick the multivitamin habit, studies suggest

Top 10 Scientific Uses For Leftover Halloween Candy

What's New by Bob Park

Got some skeptic news items? Send them to us, and we'll think about adding them.

Book of the Week:
Conversations with Carl Sagan, by Tom Head.





"Though a well-regarded physicist Carl Sagan (1934-1996) is best-known as a writer of popular nonfiction and science fiction and as the host of the PBS series Cosmos. Through his writings and spoken commentary, he worked to popularize interests in astronomy, the universe, and the possibility of extraterrestrial life. From the beginning of his public career, when he co-wrote Intelligent Life in the Universe to the very end as he worked on the 1997 film adaptation of his novel Contact, these subjects absorbed him.

This interest in space was rooted in his understanding of the smallness and vulnerability of humanity measured against the immense size and power of the universe. This profound philosophical humility, mixed with personal exuberance, comes through in Conversations with Carl Sagan. In interviews and profiles, Sagan discusses with verve a wide variety of topics — the environment, nuclear disarmament, religion, politics, extraterrestrial life, astronomy, physics, robotics. Whether he is discussing his science fiction or his well-researched nonfiction works, his voice embraces reason and skepticism.

This volume shows how Sagan, a lifelong skeptic, refined his views and expressed amazement that Earth, for all his belief in extraterrestrial life, encompasses everything about which he cared."

— Product Description
---

This Week's Most-Viewed Pages:
Forum Topics:

Articles:

There were 6,777 daily visitors this week.
Last Month's Most-Viewed Pages:
Forum Topics:

Articles:

There were 32,013 daily visitors in October, 2010.
---
More issues of the Skeptic Summary can be found in our archive.

The Skeptic Summary is produced by the staff of the Skeptic Friends Network, copyright 2008, all rights reserved.
---
Read or Add Comments about the Skeptic Summary
Back to Skeptic Summary