Skeptic Summary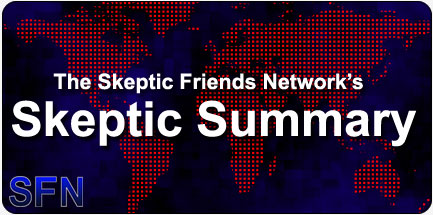 Skeptic Summary #321
By The Staff
Posted on: 3/5/2011

Booze, aliens, morality, Dennis, Modern Mechanix and more!



Week ending March 05, 2011 (Vol 8, #9)


Welcome to the Skeptic Summary, a quick week-in-review guide to the Skeptic Friends Network and the rest of the skeptical world.



Forum Highlights:
Break out the good booze! - Calling for riot police to use live ammunition has consequences.

ETs are here, despite guesses to the contrary - Wow! Never would have guessed…

Morality — objective, subjective, or what? - I'm guessing… what.

Editor's Choice: Clean-up on aisle four - Feel free to beat up on Mabus here.

Kil's Evil Pick:
Modern Mechanix — Yesterday's Tomorrow Today — This is a blog with articles culled from the old Modern Machanics magazine and other sources. The site includes many articles in their original form, including the wonderful illustrations that make the site worth the price of admission all on their own. There is a place to comment but in general, the articles are what they were as first written with little comment from the administrators of the site.




And oh what fun! The menu is long and sometimes cross-referenced. It includes:

Cover Gallery
Advertisements
Ahead of its time
Animals
Communications
Computers
Cool
Crime and Police
DIY
Entertainment
From the Archives
General
History
House and Home
How to
Impractical
Just Weird
Medical
Origins
Personal Appearance
Photography
Robots
Scary
Science
Sign of the Times
Site News
Space
Sports
Transportation
Useful
Useless Tech
War

And no. I'm not providing links. There are just too many of them, and I really couldn't decide which ones were the standouts. The articles seem to run from the early twenties to well into the eighties. All of them are either weird, or prophetic, or informative, or cool (one of the categories) or a combination of all those things. I couldn't find anything, by clicking onto a menu category that wasn't surprising in some fun way.

So, in keeping with my ongoing mission to bring you the best of our geek history, I offer for your consideration Modern Mechanix — Yesterday's Tomorrow Today as this week's pick.

Bonus Evil Pick! Alien Abduction — From the The Skeptic's Dictionary. This happens to be a pertinent article for this week if you follow our forums.
SkeptiQuote:

Ridicule is the only weapon which can be used against unintelligible propositions.

— Thomas Jefferson

Chat Highlights:
Wednesday the 23rd: Chat started out with some bad news, and good news: one member lost money on a stock market trade, the other one gained. Will it even out? Who knows… Trouble in North Africa affects trade. Glenn Beck says trade in gold, Kil says pork bellies. After agreeing upon the evils of trading stocks and the banking system, discussion turned to unions and Wisconsin and the troubles there. Union in trouble! Finally, everybody in the chat decided it was time to hit the sack.

Wednesday the 2nd: We started out discussing the evils of market economy. Well, perhaps not the economy as such but the blatant greed of the production owners who leave only scraps for those actually do the producing. The discussion turned to financially stable investment coices like porn and drugs, although both those alternatives seem to be highly competitive markets. There was an argument about what hippies look like, and what sets them apart from old hipsters and musicians. We also discussed the down-side of hiring Hells Angels as concert security or repo-men.

Come chat with us.

New Members This Week:
MandyMassacre
sebunza
alanturing
le Penseur
kariume

(Not a member? Become one today!)
---

Elsewhere in the World:
An airplane con(spiracy)trail

Discovery's Last Launch a Spectacular Sight

Drug trial secrecy leaves us dependent on blind faith

Four New Species of Zombie Ant Fungi Discovered in Brazilian Rainforest

Has Earth's Sixth Mass Extinction Already Arrived?

How old is the earth, and how do we know?

How security can be more theatre than reality

Inside Edition Investigates Power Bracelets

Investigating Ghost Tech

Meet Diania the walking cactus, an early cousin of life's great winners

Morgellons and Medical Skepticism: Fibers under Your Skin? You're Crazy.

NASA Spacecraft Images New Zealand Quake Region

The Skeptic's Dictionary Newsletter #125

Skepticality #149 — The Upside of Irrationality

What's New by Bob Park

Woman sues energy bracelet company

World's Most Powerful Optical Microscope: Microscope Could 'Solve the Cause of Viruses'

Got some skeptic news items? Send them to us, and we'll think about adding them.

Book of the Week:
Alien Abductions: Creating a Modern Phenomenon, by Terry Matheson.





"In the growing collection of pseudoscientific works on alien abductions, Matheson provides a refreshingly rational breath of fresh air. He takes an unusual approach by using a literary rather than strictly scientific analysis of the stories. Working with narratives from various abduction accounts, Matheson shows how those accounts have been used, reinterpreted, and sometimes deliberately altered by different authors. He uses such books as Whitley Strieber's Communion (1987) and Raymond Fowler's The Allagash Abductions (1993) to demonstrate how the stories have evolved over time, building on one another and evolving their own internal logic. The stories reflect society, and many blatantly 'borrow' from images in the popular media. Although the examination of inconsistencies in the accounts is illuminating, the more fascinating aspect of the work is Matheson's interpretation of the stories as an arising new mythos that describes and interprets our modern culture. He believes that as society has become increasingly depersonalizing and coldly technological, so have the reports of the abductions."

— Booklist
---

This Week's Most-Viewed Pages:
Forum Topics:

Articles:

There were 7,424 daily visitors this week.
Last Month's Most-Viewed Pages:
Forum Topics:

Articles:

There were 28,539 daily visitors in February, 2011.
---
More issues of the Skeptic Summary can be found in our archive.

The Skeptic Summary is produced by the staff of the Skeptic Friends Network, copyright 2011, all rights reserved.
---
Read or Add Comments about the Skeptic Summary
Back to Skeptic Summary