Skeptic Summary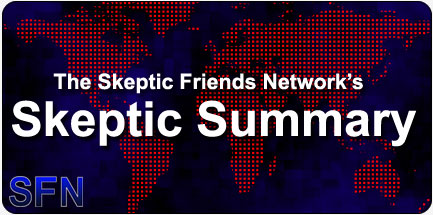 Skeptic Summary #325
By The Staff
Posted on: 4/2/2011

ADE 651, morality, shadow matter, an ID challenge, health fraud and more!



Week ending April 02, 2011 (Vol 8, #13)


Welcome to the Skeptic Summary, a quick week-in-review guide to the Skeptic Friends Network and the rest of the skeptical world.



Forum Highlights:
ADE 651 - Sign the petition to demand action and justice in the scandal.

Morality — objective, subjective, or what? - Obectively speaking, morally or not, my opinion is subjective.

Shadow Matter, Psychic Phenomena and Possible Survival of Human Personality - The book a ghost told me not to trust.

Editor's Choice: ID challenge - Spread the word.

Kil's Evil Pick:
Health Fraud — This is a very straightforward section of the National Institutes of Health web site, MedlinePlus. There are several menus that include information on all kinds of health fraud issues, because the subject is unfortunately vast. For example, from the FDA comes an article on How to Spot Health Fraud. From the Center for Disease Control (CDC) comes an article on Health Related Hoaxes and Rumors. There is a link to a video from the FTC entitled "Anatomy of a Cancer Treatment Scam," and from Medline, there is a pretty full rundown on Herbs and Supplements which includes a description of each supplement, its effectiveness, safety concerns, interactions with other medications and foods, dosages, other names and references.





Kevin Trudeau knows a great deal about health fraud.


MedlinePlus introduces the health fraud section of their site with this short alert:

You have probably seen ads for miracle cures — a supplement to cure cancer, a diet to cure diabetes. But remember — if it sounds too good to be true, then it probably is. Health fraud involves selling drugs, devices, foods or cosmetics that have not been proven effective. At best, these scams don't work. At worst, they're dangerous. They also waste money, and they might keep you from getting the treatment you really need.

Health scams often target older people. Most victims in the United States are older than 65. To protect yourself

Question claims of "miracle cures" or "breakthroughs"
Know that newspapers, magazines, and radio and TV stations do not have to make sure that the ads they run are true
Find out about products before you buy them
Don't let salespeople force you into making snap decisions
Check with your doctor before taking products

So there you have it. Sadly, there will always be quackery and health scams. Even at the expense of your health and well being, someone will always be more than happy to take your money if there is money to be made. Knowledge is your best defense against health fraud. Even though there are laws against outright quackery, and that's not the case with all forms of quackery, again, your best defense is to recognize when you should be cautious and to learn as much as you can from several sources before choosing an alternative to evidence-based medicine. And a good start is to check MedlinePlus's Health Fraud pages, and, of course, get advice from your doctor.
SkeptiQuote:

Education has failed in a very serious way to convey the most important lesson science can teach: skepticism.

— David Suzuki

Chat Highlights:
Wednesday: The stock market looks brighter since the Libyan no-fly zone started. Complaints about the non-cheapness of dentists and opticians. While we talked about TAM, we slipped into discussing Plan 9 from Outer Space and other Ed Wood movies. Those are really worth seeing just to see how bad they really are. After the digression, we were back discussing TAM9, which Neil deGrasse Tyson will be attending. After that, about how we are spoiled by convenience. Popcycle and other word-plays before we rounded up with baby SFN shirts and computer RPGs.

Come chat with us.

New Members This Week:
Abby39
Alexander1304
Stephanie324
sentot
The Ape Hunter

(Not a member? Become one today!)
---

Elsewhere in the World:
The 5 Worst Promoters of Nonsense

Africa rhinos face 'worst poaching crisis for decades'

Anarchy in the UK? That depends on how you handle the numbers

Can we declare victory in the participation of women in science? Not yet.

Curry powder molecule 'is cheap sensor for explosives'

A Date With a Dinosaur

Failing the Science Test

Harry Houdini: Why the world needs magicians

Jerusalem UFO Video: Case Closed

"Oh, what a tangled web we weave"… because of small brains?

Pigs might fly: Scientist who claimed to have found life receives top award (for fakers)

Remarkable Fossil Sea Creature — 525 Million Years Old — Shows Soft Parts of Body Including Tentacles

Skepticality #151 — The Science of Usability

This Week in Intelligent Design

Video From Trondheim and Recent Press Coverage

What's New by Bob Park

Who Wrote The Bible and Why It Matters

Got some skeptic news items? Send them to us, and we'll think about adding them.

Book of the Week:
Tracking the Man-beasts: Sasquatch, Vampires, Zombies, and More, by Joe Nickell.





"This is an intelligent and insightful journey into the shadowy world of the 'man-beast' and whether they truly exist… If legend, and eyewitness accounts are to be believed, since ancient times we have shared our planet with various 'man-beasts'. From the Abominable Snowman to Zombies, these creatures have managed to both terrify and enthrall us in equal measure. Does the enduring fascination in movies and literature with vampires and werewolves have any basis in reality? Does Bigfoot really exist as an endangered species? Are aliens really abducting people? Are they real creatures or only expressions of our very human hopes and fears? In Tracking the Man-Beasts, veteran paranormal investigator Joe Nickell explores the historical, geographical, and cultural reaches of various 'manimals' and other humanoid entities, bringing folkloric and iconographic evidence to bear on a category of mystery as old as humanity."

— Product Description
---

This Week's Most-Viewed Pages:
Forum Topics:

Articles:

There were 6,085 daily visitors this week.
Last Month's Most-Viewed Pages:
Forum Topics:

Articles:

There were 31,396 daily visitors in March, 2011.
---
More issues of the Skeptic Summary can be found in our archive.

The Skeptic Summary is produced by the staff of the Skeptic Friends Network, copyright 2011, all rights reserved.
---
Read or Add Comments about the Skeptic Summary
Back to Skeptic Summary