Skeptic Summary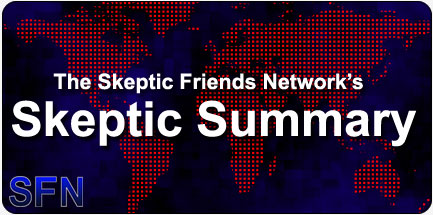 Skeptic Summary #160
By The Staff
Posted on: 10/6/2007

Bush, CNN, a textbook, more money quotes, the flat Earth and more!



Week ending October 6, 2007 (Vol 4, #37)


Welcome to the Skeptic Summary, a quick week-in-review guide to the Skeptic Friends Network and the rest of the skeptical world.

Forum Highlights:
Bush vetoes child health act - As HalfMooner said, "No child left alive."

CNN and alternative medicine - Time for an alternative news source.

Page from a Creationist textbook - Standard Creationist arguments, but with pictures!

Editor's Choice: The money quote - More bits and pieces of Dembski's embarrassment come out.


Kil's Evil Pick:
The Flat Earth Society: "Deprogramming the masses since 1547"

This pick was suggested by Boron10 and I decided to go with it. After all, when we are discussing truly strange religious ideas, we often bring up the fact that some people still think that the Earth is flat as an example of absurd thinking of the most outrageous kind. Know your screwballs, I often say…

Is the site a parody? Is it an example of Poe's Law that has fundamentalists and skeptics taking the bait? After looking over the site for some time, I can't really say for sure. It works as a parody if one is inclined to look at it that way. Are these folks serious? It's an open question. They surely don't do much on their site to dispel the notion that they might be putting us on. I guess you will have to decide how honest they are being for yourself, and perhaps show me what I missed that would convince me of their intent one way or the other.

Rightly wishing to dispel notions regarding the alleged citrus-like shape of our planet, the Church was able to either silence or execute nearly all the fanatics. But a small handful remained, continuing to spread their blasphemous speeches and to promote their heretical ideals involving the very center of the universe. One of their number, who called himself Grigori Efimovich, would later be known to the rest of the world as Christopher Columbus. Using an elaborate setup involving hundreds of mirrors and a few burlap sacks, he was able to create an illusion so convincing that it was actually believed he had sailed around the entire planet and landed in the West Indies. As we now know, he did not. What Efimovich actually did was sail across the Atlantic Ocean to a previously undiscovered continent, North America, and even then only to a small island off the coast. It took him several years more even to "discover" his blunder and claim it as a "…new world." But the damage had already been done, and mankind entered into what we now call its "Dark Ages"…

— The Flat Earth Society Mission Statement
SkeptiQuote:

A danger sign of the lapse from
true skepticism into dogmatism is
an inability to respect those who
disagree.
— Dr. Leonard George
Chat Highlights:
Sunday: Planting flowers for the Spring; translating from another language vs. thinking in a second language; Dr. Mabuse's experience of segregation in Atlanta.

Wednesday: Derek showed up to chat and talk inevitably shifted towards Dragon*con which our own Dr. Mabuse had attended. Over 50,000 probably showed up this year and Randi is scheduled to be at the one being held next year. Then, comparing web hosts prices and features for a budding physics-class podcast. The night ended with teaching math, Army/Navy jokes, and computer jokes. Also mentioned was yet another hilarious article from the Onion.

Come chat with us.
New Members This Week:
ggm41
3john
Cthooligan
RockLobster
sailingsoul
sabbathpriest
Running Bear
Worldlystone
superechnik

(Not a member? Become one today!)
---
Elsewhere in the World:
Pinning down a remedy for backache

Skepticality #062 — Girl Power! Interview: Alison Smith, founder of The Skeptical Analysis of the Paranormal Society (SAPS)

What's New by Bob Park

Got some skeptic news items? Send them to us, and we'll think about adding them.
Book of the Week:
Einstein's Refrigerator and Other Stories from Flip Side of History, by Steve Silverman.





"Steve Silverman was looking for a way to add some spice to his high school lectures when he realized that weird and bizarre true-life stories would capture his students' attention. In fact, they worked so well that the science teacher then began posting his discoveries to his own Web site, which he dubbed Useless Information. Well-researched and clearly sourced, Silverman's unusual tidbits have gained a wide following. In Einstein's Refrigerator, Silverman collects more than 30 of the most fascinating stories he has gathered — tales of forgotten genius, great blunders, and incredible feats of survival, as well as answers to puzzling questions. Einstein's Refrigerator is a remarkable book with spellbinding stories. Whatever happened to the refrigerator Einstein helped invent? While it never became a commercial success, its underlying concepts became the basis for cooling nuclear breeder reactors."

— Book Description
---
This Week's Most-Viewed Pages:
Forum Topics:

Articles:

There were 31,463 daily visitors this week.
Last Month's Most-Viewed Pages:
Forum Topics:

Articles:

There were 37,584 daily visitors in September.
---
More issues of the Skeptic Summary can be found in our archive.

The Skeptic Summary is produced by the staff of the Skeptic Friends Network, copyright 2007, all rights reserved.
---
Read or Add Comments about the Skeptic Summary
Back to Skeptic Summary