Skeptic Summary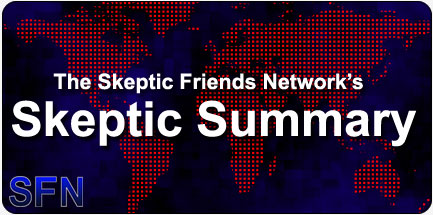 Skeptic Summary #219
By The Staff
Posted on: 1/3/2009

Allied atheists, over-the-top Phelps, little people, predictions, the NAS on evolution and more!



Week ending unknown 03, 2009 (Vol 6, #1)


Welcome to the Skeptic Summary, a quick week-in-review guide to the Skeptic Friends Network and the rest of the skeptical world.



Forum Highlights:
Atheists as allies? - Much better than having them as enemies, right?

Fred Phelps truly tops himself - No, not like that.

H. floresiensis is back in the news - But it's only a short piece.

Editor's Choice: SFN 2009 Psychic Contest, Enter by Feb1, 2009! - Enter to make it less likely that I'll pull a three-peat.

Kil's Evil Pick:
The National Academy of Sciences (NAS) has made available for free and online their book, Science, Evolution, and Creationism:

How did life evolve on Earth? The answer to this question can help us understand our past and prepare for our future. Although evolution provides credible and reliable answers, polls show that many people turn away from science, seeking other explanations with which they are more comfortable.

In the book Science, Evolution, and Creationism, a group of experts assembled by the National Academy of Sciences and the Institute of Medicine explain the fundamental methods of science, document the overwhelming evidence in support of biological evolution, and evaluate the alternative perspectives offered by advocates of various kinds of creationism, including "intelligent design." The book explores the many fascinating inquiries being pursued that put the science of evolution to work in preventing and treating human disease, developing new agricultural products, and fostering industrial innovations. The book also presents the scientific and legal reasons for not teaching creationist ideas in public school science classes.

Mindful of school board battles and recent court decisions, Science, Evolution, and Creationism shows that science and religion should be viewed as different ways of understanding the world rather than as frameworks that are in conflict with each other and that the evidence for evolution can be fully compatible with religious faith. For educators, students, teachers, community leaders, legislators, policy makers, and parents who seek to understand the basis of evolutionary science, this publication will be an essential resource.

Check out the other titles from the NAS, also.
SkeptiQuote:

Power is not sufficient evidence of truth

— Samuel Johnson

Chat Highlights:
Sunday: If anyone was at the last regular Sunday chat, nobody thought to tell us.

Wednesday: It was very quiet, as chats go. New Years' fireworks; Mythbusting the Moon hoaxes; lazy eating; Primerica and a little bit of Auditorium.

Come chat with us.

New Members This Week:
rottenflesh
kemibe

(Not a member? Become one today!)
---

Elsewhere in the World:
11th Circuit Affirms Tax Conviction of Creation Science Evangelist

21 Dumbest Moments in Business 2008

Biggest Science Stories: Bloggers' Picks for 2008

Could it be pretty obvious there's no God?

HIV/AIDS denialist Christine Maggiore is dead

The Latest Face of Creationism in the Classroom

Newdow Files Suit Over Inauguration

Oh No! I've Seen the Impossible! My Eyes!

Smoke and Mirrors, Whales and Lampreys

Steve Fuller at Uncommon Descent

Top 10 Jackasses of 2008

Top 10 Skeptics Who Kicked Ass in 2008

Welcome to The International Year of Astronomy!

When a single quote tells you all you need to know about a critic's reasoning ability

Will stupid people and their pseudoscience cost more lives this year?

The woo-meister supreme returns, and he's brought his friends

The Year in ID — 2008 Edition

Got some skeptic news items? Send them to us, and we'll think about adding them.

Book of the Week:
What's So Wrong with Being Absolutely Right: The Dangerous Nature of Dogmatic Belief, by Judy J. Johnson.





"In this incisive analysis of an increasingly pervasive problem, clinical psychologist Dr. Judy J. Johnson presents a landmark theory that probes the psychological channels of dogmatism. While other books describe the effects of specific types of ideological extremism, a wide-angle theory of dogmatism — in all its manifestations — has been lacking until now.

Drawing from traditional and contemporary personality theories, biopsychology, social learning theory, Buddhism, and evolutionary psychology, Johnson explores major influences that shape the personality trait of dogmatism. She uses lively case studies to illustrate twelve characteristics of dogmatism, and suggests strategies for minimizing its harmful effects in our personal lives as well as our educational, political, and other social institutions.

Written in a clear, engaging style that is professional in tone yet accessible to a wide audience, Johnson's insightful work will enlighten readers on one of the most important issues of our time."

— Book Description
---

This Week's Most-Viewed Pages:
Forum Topics:

Articles:

There were 6,860 daily visitors this week.
Last Month's Most-Viewed Pages:
Forum Topics:

Articles:

There were 44,459 daily visitors in December, 2008.
---
More issues of the Skeptic Summary can be found in our archive.

The Skeptic Summary is produced by the staff of the Skeptic Friends Network, copyright 2008, all rights reserved.
---
Read or Add Comments about the Skeptic Summary
Back to Skeptic Summary