Skeptic Summary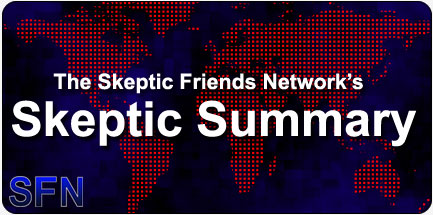 Skeptic Summary #347
By The Staff
Posted on: 11/6/2011

Backyard skeptics, bulk homeopathy, performance birth, magical faith, sky daddy, capital philosophy, big bang bust, natural childbirth, self-reference and more!



Week ending November 06, 2011 (Vol 8, #35)


Welcome to the Skeptic Summary, a quick week-in-review guide to the Skeptic Friends Network and the rest of the skeptical world.



Forum Highlights:
Backyard Skeptics make fools of themselves - Bad source-checking, which may affect us all.

Bulk homeopathy - The secret Big Alt Med doesn't want you to know.

Giving birth as performance art - Ok, so she delivered…

Magicians say their craft makes them see faith as just hocus-pocus - What about sample size?

Pandering to Big Sky Daddy - Here's what you can do to protest.

Philosophical basis for capital punishment - In an ideal world, it might work.

Editor's Choice: Skepticism about the Big Bang - Good info, willfully ignored.

New Article This Week:
Natural Childbirth: Under the Skeptical Movement's Radar? - Should skeptics be examining the natural childbirth movement more strenuously?

Kil's Evil Pick:
The Skeptic Friends Network's Skeptic Summary — This is our 347th SFN Skeptic Summary. And we have skipped a few weeks along the way for one reason or another. And no, this is not a special edition of the Summary. It's just what we, the staff here at SFN, publish every week.

The idea of doing a weekly summary took shape when we discussed the possibility of doing a newsletter. There were obstacles to doing that, some having to do with money and some having to do with our resistance to forcing our members to opt in or out of receiving an emailed newsletter, and other problems that while not insurmountable, just didn't happen to appeal to us.




What to do? What to do?

What we did want to publish were links of our most recent articles, news of current threads on our forums that we thought might be of interest to our members and maybe the skeptical world at large, skeptic related weekly picks from off our site and a place to actually promote those sites and articles that were of interest to us. You need look no further than this Summary to see how we have broken our issues down. We feature a Book of the week, my Evil Pick, SFN's most popular pages and articles, and a list of articles, blog entries, science news, podcasts and whatever else that we find of interest to skeptics, from outside of SFN's pages.




Has our Summary been wildly successful? All in all, I would have to say no. But we persevere. We do have our readers, of course. We know what we are about, and the very fact that we are still very much a member-driven (rather than a star-driven) site, in my opinion, makes us special, as skeptic sites go. Unlike most skeptical organizations, SFN exists entirely online. We are what we have always been. We are an online grassroots skeptic site. And with all of the changes and growth that has happened in our community, especially online, since SFN came into being some fifteen years ago, we are still here. Still doing what we do for the love of doing it. Because dang! There sure as hell isn't any money in it.




So what am I on about? Why did I make our Summary my pick for this week?

346 recommendations are a lot of picks! And it seems that this week I have contracted the Evil Pick's version of writer's block. So rather than look for just any old site to dump here, I decided to do this instead (whatever "this" is), because I really don't want to promote a site that I couldn't care less about, just for the sake of filling a space in our Summary. So I'm not going to do it. What I'm going to do instead is to ask my readers to recommend some sites to me. What am I looking for? It could be a great science or skeptical resource, it could be something quirky or geeky or, well, just about anything that you think our readers might enjoy knowing about. Of course, it must be a website.





Other than ours.


I have a site picked out for next week. But still… Any suggestions would be appreciated. You can send your suggestions to me at david_gluck@skepticfriends.org Thanks!
SkeptiQuote:

The way to deal with superstition is not to be polite to it, but to tackle it with all arms, and so rout it, cripple it, and make it forever infamous and ridiculous. Is it, perchance, cherished by persons who should know better? Then their folly should be brought out into the light of day, and exhibited there in all its hideousness until they flee from it, hiding their heads in shame.

— H. L. Mencken

Chat Highlights:
Wednesday: Dr. Mabuse announced that he would be back in chat, and he was… an hour late thanks to the Daylight Savings change and a huge load of work. Once the confusion had settled, we talked about cell phones. The kind that don't break if you step on them. Or stomp on them. Then strange messages from new car stereos, the latest fashion is a calendar which makes the stereo display holiday and birthday greetings when it powers up. Considerable energy was directed toward the congressional reaffirmation of the motto "In God We Trust" and what to do about the text printed on US currency.

Come chat with us.

New Members This Week:
PaulTilian
stu

(Not a member? Become one today!)
---

Elsewhere in the World:
An accidental experiment in America shows how evolution happens

DIY statistical analysis: experience the thrill of touching real data

Do You Have ESP? Classroom Materials

Doubtful Newsblog

For growing ranks of pagans, October 31 means a lot more than Halloween

Halloween Night: Psychic Sally Morgan Challenged—Updated

Mind the gap: Entering strange new territory on my Bigfoot weekend

My New Book 'The Martians Have Landed!' Now Released

Pox parties taken to the next (illegal) level

Psychic and sex chatline worker's benefit fraud sentence

Psychologist admits to faking dozens of scientific studies

Sign The Delta Anti-Vaccination Flyer Petition

Skepticality #168 — Centers for Zombie Control and Prevention

What eight years of writing the Bad Science column have taught me

What's New by Bob Park

William Shakespeare and the Moon Landings

Got some skeptic news items? Send them to us, and we'll think about adding them.

Book of the Week:
The Martians Have Landed!: A History of Media-Driven Panics and Hoaxes, by Robert E. Bartholomew and Benjamin Radford.





"History is replete with examples of media-created scares and panics. This book presents more than three dozen studies of media scares from the 17th century to the 21st century, including hoaxes perpetrated via newspapers, radio, television and cyberspace. From the 1835 batmen on the Moon hoax to more recent bird flu scares and Hurricane Katrina myths, this book explores hoaxes that highlight the impact of the media on our lives and its tendency to sensationalize. Most of the hoaxes covered occurred in the United States, though incidents from Europe, Asia, Africa, South America and Australia are featured as well. Several are global in scope, revealing the power global media wields."

— Book Description
---

This Week's Most-Viewed Pages:
Forum Topics:

Articles:

There were 6,563 daily visitors this week.
Last Month's Most-Viewed Pages:
Forum Topics:

Articles:

There were 28,591 daily visitors in October, 2011.
---
More issues of the Skeptic Summary can be found in our archive.

The Skeptic Summary is produced by the staff of the Skeptic Friends Network, copyright 2011, all rights reserved.
---
Read or Add Comments about the Skeptic Summary
Back to Skeptic Summary