Skeptic Summary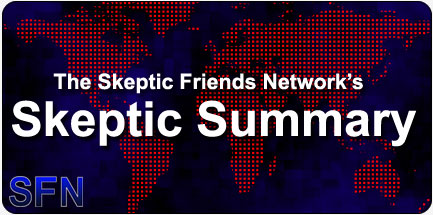 Skeptic Summary #145
By The Staff
Posted on: 6/4/2007

Creationism, eugenics, evolution, fairness, organs and more!



Week ending June 2, 2007 (Vol 4, #22)


Welcome to the Skeptic Summary, a quick week-in-review guide to the Skeptic Friends Network and the rest of the skeptical world.

Forum Highlights:
Creation museum: opened - And what a fleecing it's begun…

Evolution is a tool of eugenics - "Survival of the fittest" doesn't apply to some tired canards.

Editor's Choice: I believe in evolution, except for the… - …apes? No. Horses? No. Flagella? No.
This Week's Poll:
When will someone else have a turn?
Kil's Evil Pick:
Top 10 Useless Limbs (and Other Vestigial Organs)

For some fun, see if you can guess them before looking…

This comes from the Live Science site. Worth a surf on its own.
Chat Highlights:
Sunday: Movies; hospital visits; conspiracies and the book Them; does "survival of the fittest" mean we should apply it as social engineering? Margaret Sanger; eugenics; Illuminati and the shape-shifting Lizard Men; George Bush's physical and mental condition. Also: wearing tie, or bow tie? Doing any creative writing? How many pills of medicine do you take every day? What qualifies as natural process of evolution?

Wednesday: Penguins moving icebergs, Star Trek fan military coups, chat was certainly buzzing this week. Things got a bit more serious when health care became the hot topic of conversation. Much focused on comparisons between the systems in Canada and the U.S. Discussion slowly switched over to marriage, sex education, and children. Of course, because of some who attended chat, eugenics was also considered. The end of chat was solely on the Chinese government selling body parts and orphans, and trying to get Jerome to back up his statements with evidence.

Come chat with us.
New Members This Week:
zionlion
nob_dammit
The Atheist
Werkshop

(Not a member? Become one today!)
---
Elsewhere in the World:
Bad Science

Non Sequitor in Five Parts

Skeptic's Dictionary Newsletter 79

Skepticality #053 - Atheists Are People Too. Interviews: Lori Lipman Brown and the Rational Response Squad

What's New by Bob Park

Got some skeptic news items? Send them to us, and we'll think about adding them.
Book of the Week:
Leaving the Fold: Testimonies of Former Fundamentalists, by Edward T. Babinski (editor).





"Between an introduction and appendix provided by Babinski, 33 former Christian fundamentalists explain how and why they first embraced, and later abandoned, that belief system. Of these, eight have become atheists, eight (including Babinski) agnostics, one a Wiccan, and one a Zen Buddhist; the remainder have remained Christian. Major contemporary religious writers such as Harvey Cox and Sam Keen are included. The agenda here is unmistakably antifundamentalist, and the occasional leak of vitriol does distract. Also, in its ambition to be comprehensive, Babinski's annotated 'list of additional testimonies' neglects a distinction between trash and treasure. However, in the main the individual statements and recollections are clearly, thoughtfully, and intelligently presented, and documentation is thorough. For this reason, and because no similar collection of such breadth and depth is available, this work is reservedly recommended as a useful addition to church, academic, and larger public library collections."

— Library Journal
---
This Week's Most-Viewed Pages:
Forum Topics:

Articles:

There were 5,340 daily visitors this week.
Last Month's Most-Viewed Pages:
Forum Topics:

Articles:

There were 25,897 daily visitors in May.
---
More issues of the Skeptic Summary can be found in our archive.

The Skeptic Summary is produced by the staff of the Skeptic Friends Network, copyright 2007, all rights reserved.
---
Read or Add Comments about the Skeptic Summary
Back to Skeptic Summary