Skeptic Summary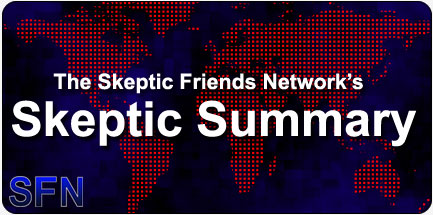 Skeptic Summary #173
By The Staff
Posted on: 1/7/2008

Huckabee, creationism, NPR, wannabe martyr, conspiracy, the new year, the afterlife and more!



Week ending January 5, 2008 (Vol 5, #1)


Welcome to the Skeptic Summary, a quick week-in-review guide to the Skeptic Friends Network and the rest of the skeptical world.

Forum Highlights:
Buck on Huck - The SFN takes a look at the minister-turned-candidate for President.

NAS vs. creationism - Download the book. Do it today!

NPR's bias when announcing Iowa primary results - It isn't whether you win or lose, it's how they announce the results.

Editor's Choice: The would-be martyr - This needed more press.

From the Archives: Creation/evolution - Yes, Bill scott posted this in the "Conspiracy Theories" folder.
This Week's Poll:
Welcome to 2008
Kil's Evil Pick:
The Great Afterlife Debate: Michael Shermer v. Deepak Chopra

Well, this is fun. I missed it when it happened but it's never too late, I guess. From the introduction:

The following debate between Deepak Chopra and Michael Shermer came about after the widely read and referenced debate the two had last year on the virtues and value of skepticism. Deepak has a new book out on the subject, Life After Death: The Burden of Proof (Harmony, 2006 ISBN 0307345785), and Michael has written extensively about claims of evidence for the afterlife, so the two of them thought it would be stimulating to have a debate on the topic. Michael read Deepak's book and goes first in the debate, offering his assessment of the "proofs" presented in Deepak's book, then Deepak responds.
SkeptiQuote:

But the fact that some geniuses
were laughed at does not imply
that all who are laughed at are
geniuses. They laughed at
Columbus, they laughed at Fulton,
they laughed at the Wright
Brothers. But they also laughed
at Bozo the Clown.
— Carl Sagan
Chat Highlights:
Sunday: There was no chat on Sunday, so far as I know.

Wednesday: Forum talk started things off but everything quickly died down after a couple of bad jokes. Things got back on track with talk of boron's 2nd 30th birthday which is just around the corner. Then a whole slew of videos including WiiFit, How To Kill a Brand (PS3), Wii Hacks, PS3 vs Wii (not exactly work safe), Mac Commercial Parody, Mac Users Can't Talk Without Their Hands, SNL iPhone, and a rather hilarious car commercial. The night ended with old video games such as Zelda.

Come chat with us.
New Members This Week:
Francisco de la Sol
Brian
dobryjr
Jinzo8
JustBob2008
AK_Skeptic

(Not a member? Become one today!)
---
Elsewhere in the World:
Clinical trials and playing by the rules

Donors Bring Big Telescope a Step Closer

What's New by Bob Park

Got some skeptic news items? Send them to us, and we'll think about adding them.
Book of the Week:
God Is Not Great: How Religion Poisons Everything, by Christopher Hitchens.





"In the tradition of Bertrand Russell's Why I Am Not a Christian and Sam Harris's recent bestseller, The End of Faith, Christopher Hitchens makes the ultimate case against religion. With a close and erudite reading of the major religious texts, he documents the ways in which religion is a man-made wish, a cause of dangerous sexual repression, and a distortion of our origins in the cosmos. With eloquent clarity, Hitchens frames the argument for a more secular life based on science and reason, in which hell is replaced by the Hubble Telescope's awesome view of the universe, and Moses and the burning bush give way to the beauty and symmetry of the double helix."

— Book Description
---
This Week's Most-Viewed Pages:
Forum Topics:

Articles:

There were 7,611 daily visitors this week.
Last Month's Most-Viewed Pages:
Forum Topics:

Articles:

There were 35,277 daily visitors in December, 2007.
---
More issues of the Skeptic Summary can be found in our archive.

The Skeptic Summary is produced by the staff of the Skeptic Friends Network, copyright 2008, all rights reserved.
---
Read or Add Comments about the Skeptic Summary
Back to Skeptic Summary