Skeptic Summary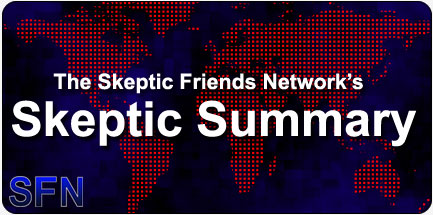 Skeptic Summary #362
By The Staff
Posted on: 5/6/2012

Ghostie-talkie, Gnuness, damned pagans, dark matters, questioning tone, Listverse and more!



Week ending May 06, 2012 (Vol 9, #11)


Welcome to the Skeptic Summary, a quick week-in-review guide to the Skeptic Friends Network and the rest of the skeptical world.



Forum Highlights:
Ghost walkie-talkies - If ghosts don't walk, how can they talk?

Neil de Grasse Tyson, atheist or agnostic? - More Atheist vs. Agnostic, Gnu versus non-confrontation.

Norse pagan argument demolishes atheism - Fun, but with serious undertones.

Vast structure discovery… nixes Dark Matter - Says a blog, which does not count as peer-reviewed.

Editor's Choice: Questioning skepticism - Let's talk tone, again.

Kil's Evil Pick:
LISTVERSE — I found Listverse while searching for museums that would appeal to the geek in all of us. Or maybe the geek in me, as the case may be, and as part of my never-ending quest to bring to you the best or weirdest that the World Wide Web has to offer. Stuff of interest to Skeptics and, well… Geeks.




Anyhow, Listverse. Guess what that site is about? (Go ahead. Write out a list of possibilities.) If you think that Cracked.com has lists, and they do, just get a load of Listverse! (In all honesty, I couldn't figure out how many pages of lists they have. But being that it's what they do, there are a lot of them. In fact, forget comparing the two sites. I like them both and so will you.)

Let's talk categories. I'm not going to link to them because hey, every time I do that it takes a whole lot of time and all you have do to see what's there is to go to Listverse. And yet, I feel the need to list them. So here they are: Latest Lists, Art & Literature, Bizarre, Crime & Mystery, Entertainment, Fact & Fiction, Food & Health, History, Leisure & Travel, Miscellaneous, Movies, Music, People & Politics, Religion, Science & Nature, Popular, and Controversial. That should keep you busy for a while.




And tell me, who wouldn't love a site that lists 10 Foods To Make You Happier? Or 10 Upcoming Astronomical Events Worth Seeing? That one includes news that there will be a total eclipse of the Sun over North America in 2015, which makes me very happy, as just one event in a very busy year that includes two other total eclipses of the Sun. And how about the Top 10 Demons To Blame For Bad Behavior? How can you go wrong with that information? And as if we didn't know, they list 10 Mysteries With A Logical Explanation. Now to me that should mean that the mysteries aren't so mysterious. And they aren't. But why quibble?




Let's take a quick look at their About page, shall we?

Overview

Listverse serves over 10 million pages a month to more than 2 million readers. We are focused on lists that intrigue and educate, specializing in the bizarre or lesser- known trivia. Every day we present a new unique list in any one of our fifteen categories, from art & literature to science & nature.

Listverse has been featured on BBC Radio, Radio Scotland, Alabama Radio, BBC Television World News International, and in the New York Times. We regularly feature on the front pages of social networking sites Fark and Reddit.


Well okay. They don't have a whole lot to say about themselves. But who cares? It's a great site, full of really cool information, wrapped in a fun package. I wouldn't go so far as to call Listverse a resource site, but it is a great place to kick back and allow the geek to come out and play. And sometimes that's reason enough.
SkeptiQuote:

Creationists make it sound like a "theory" is something you dreamt up after being drunk all night.

— Isaac Asimov

Chat Highlights:
Wednesday: The chat started out talking about attracting women and how the "law of attraction" according to The Secret (the movie) is bullshit. How pseudoscience is sold by the media using buzz words like quantum mechanics. Then we slipped into the subject of TAM when talking about speakers who are scheduled to attend. And how accessible will the TAM localities be for handicapped? Kil expressed desire to attend but lamented that the economy might be a roadblock. Then there was a discussion about debaters like Hitchens and Dawkins, and the opposition: William Lane Craig, which naturally evolved into being about Gnus like those mentioned, plus Dennet, Harris, and Weiblen. The chat ended with pink slime and (dangerous?) chemicals and vaccines, and care related stuff. And the psychology behind the differences between liberal and conservative.

Come chat with us.

New Members This Week:
MistyOne
VegasStripper
GFlagger

(Not a member? Become one today!)
---

Elsewhere in the World:
5 Great Scientists Who Believed Wildly Unscientific Things

Archaeologists hit 'gold' at Mansuli

Carcineidolia

Cassini sees 'snowball fight' in Saturn ring

Colson's Fake Prisoner Rehab Numbers

Doubtful Newsblog

Farming 'spread by migrant wave'

Getting Real: A Look at the New Skepticism

Gotta Watch: Devoted dogs

Has Physics Made Philosophy and Religion Obsolete?

'Huge' water resource exists under Africa

In defence of obscure words

Key tests for Skylon spaceplane project

Measles cases reached 15-year high in 2011

Museum aims to help popular science fully evolve in the Philippines

Native American Wisdom for All

Neurons Mirror the Diametric Mind

Nigerian Christians Murder 'Witches' Too

Persian invaders of Greece 'did perish in tsunami'

Pilot sends plane into dive after mistaking Venus for oncoming plane

Rare Protozoan from Sludge in Norwegian Lake Does Not Fit On Main Branches of Tree of Life

Richard Dawkins Has a Point, Your Eminence!

The rock hyrax surprises with syntax skills

Seattle Attorney Andrew Basiago Claims U.S. Sent Him On Time Travels

The Skeptic's Dictionary Newsletter, April, 2012

Skepticality #180 — Odds of Popular Beliefs

Student Dresses as Jesus for Fictional Character Day

Stunning Footage of an Alien Planet: Earth

What's New by Bob Park

Where's the Beef? Early Humans Took It

Why do French intellectuals "know nothing about science"?

Got some skeptic news items? Send them to us, and we'll think about adding them.

Book of the Week:
Listverse.com's Ultimate Book of Bizarre Lists: Fascinating Facts and Shocking Trivia on Movies, Music, Crime, Celebrities, History, and More, by Jaimie Fraster.





"FREAKS OF NATURE, ODD CRIMES, SHOCKING DEATHS, DEVASTATING DISASTERS, BLOOD-CURDLING RITES, CRAZY CONSPIRACIES & MUCH, MUCH MORE



Gruesome Torture Devices
Mass Hysteria Outbreaks
Unbelievable Miniatures
Disturbingly Scary Clowns
Outer Space Mysteries
Astonishing Aphrodisiacs
Disgusting Ancient Jobs
Spooky Sports Curses
World-Famous Penises
Mail-Order-Bride Shockers
Brutal Pope Deaths
Outrageous Wedding Locales
Grossest Edible Animals
Appalling Religious Practices

"

— Book Description
---

This Week's Most-Viewed Pages:
Forum Topics:

Articles:

There were 6,679 daily visitors this week.
Last Month's Most-Viewed Pages:
Forum Topics:

Articles:

There were 31,854 daily visitors in April, 2012.
---
More issues of the Skeptic Summary can be found in our archive.

The Skeptic Summary is produced by the staff of the Skeptic Friends Network, copyright 2012, all rights reserved.
---
Read or Add Comments about the Skeptic Summary
Back to Skeptic Summary