Skeptic Summary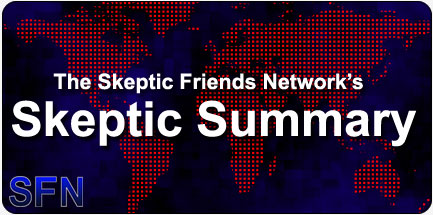 Skeptic Summary #379
By The Staff
Posted on: 1/13/2013

Sad reviews, Xmas cards, objections, creationism, Relatively Interesting and more!



Week ending January 13, 2013 (Vol 10, #1)


Welcome to the Skeptic Summary, a quick, bi-weekly review of the Skeptic Friends Network and the rest of the skeptical world.



Forum Highlights:
Apologetic reviews - More reviews to be apologetic about.

Christmas cards to atheists - How to deal with them.

Indiana hospital fires nurses refusing flu shots - Claiming religious objections didn't help at the oncology ward.

More stupid than your average creationist - Two YouTube videos create discussion.

Kil's Evil Pick:
Relatively Interesting: Learn a little, laugh a little. — Look what I found! A Relatively Interesting blog site! I think for skeptics, the site is a bit more than relatively interesting, but I'll let them have it their way. After all, I was once tempted to call what I do, "Good Enough Carpentry." I got the idea after passing an auto repair shop in Beverly Hills called "Precision Auto Repair." I wondered what would happen if there were a competing shop across the street called, "Good Enough Auto." I wondered which shop would get more business? I think the choice would be clear to the value-minded. And speaking of value (here comes the clunky segue after a pretty serious digression), value is what you get a lot of at Relatively Interesting. It's a high-value site for those interested in skepticism and science. And it accomplishes that without getting preachy or becoming overly technical. In fact, the site is rather light-hearted even though it's packed with great information.




The menu is a simple pull-down thing with six main headings. Those are Popular Science, Think About It, Humor, Picks And Lists, Videos, Archives and Submit/Contact. Of course, the really good stuff happens after clicking on something from the pull-down menus. For example, check out Extraordinary Earth under Popular Science and Nonsense under Think About It. Under Humor there is sub-menu called Me? Neurotic?. It's there that you will find, Which way should the toilet paper roll? Over or under? Archives is a mother-load of great articles, cartoons and videos often dealing in subjects pertaining to skepticism, science and sometimes just fun stuff, sure to please the geek in all of us.





World's Greatest Venn Diagram


I couldn't find the people or person behind Relatively Interesting, but there is an About page. Here's how they describe the site:

If you were to merge the curated content from the Huffington Post, the wit and charm from Cracked.com, and then blend it with a little science, skepticism, critical thought, neuroticism, and then mix that with the observational humor of Jerry Seinfeld or Larry David, then you'd get something like RelativelyInteresting.com.

If you'd like to learn a little something here and there, and you'd like to poke fun at the human psyche, then you are at the right place.

Relatively Interesting is the merging of three websites: the original Relatively Interesting, Have You Ever Noticed, and Creepy Kids Books. Judging by their titles, they seem disjoint, and maybe they are. Heck, it doesn't really matter. All that matters is that the content on this site is, well, relatively interesting.

Go forth, explore the site. Comment, share, rejoice.

I couldn't have said it better. Have some fun at Relatively Interesting!




Wait! This just in!

I wrote to the "contact us" link at the top of the homepage to get some info about the creator/author of Relatively Interesting and Bill Litshauer kindly wrote me back. Now we know who created this really cool blog/website. He sent me to a link that I missed at Relatively Interesting, about the site and his journey into skepticism, which many of us will probably find somewhat familiar, having made similar journeys into skepticism ourselves. It's a very good read. It's called, "Science and Skepticism and Blogging — oh my!" You might also be interested in this Radio Interview with Bill.
SkeptiQuote:

I think it's a danger to create the illusion of certainty. Because science, it seems to me, thrives on uncertainty. One of the great personal benefits I've had from reading science and listening to scientists talk is to appreciate the pleasure of uncertainty. For me, getting through life is surfing on uncertainty in every way. And science, rather than pumping us full of truths, encourages us to keep looking.

Chat Highlights:
Wednesdays: There were at least three of them since the last Summary, I think. And yet, here it is, only one chat summary. I'll try to cover all three chats. In general, chat starts around 7 PM Pacific Standard Time. I make my dinner to coincide with the beginning of chat. I do that out of habit because there is no particular reason for me to wait until seven to eat. As for chat (I'll bet you thought I would never get to it), we had a pretty good crowd last week. The two previous weeks were slow, due to the holidays I suppose. Oh well. Also, maybe one of these days we will find a new chat host who can log chat. Then there might be a reason to read this. Never the less, do stop by next Wednesday night. We have fun.

Come chat with us.

New Members This Week:
angelhearts
dan641
tomacana
roxannedetierro

(Not a member? Become one today!)
---

Elsewhere in the World:
The 12 cognitive biases that prevent you from being rational

Atheists vs. Christians: Inside One of America's Bitterest Nativity Scene Battles

Bad UFOs: Skepticism, UFOs, and The Universe

Celebrities taken to task in annual round-up of scientific nonsense

Debunking 9/11 conspiracy theorists part 5 of 7

Debunking 9/11 conspiracy theorists part 6 of 7 — The psychology behind a 9/11

Doubtful News

Dr. Oz's Miraculous Medical Advice

Hidden Gems of 2012

Hospital fires EIGHT veteran nurses because they refused to take flu shot for religious reasons

How NASA might build its very first warp drive

Income Tax Legitimacy Denial

Lawrence Krauss on Caveman Common Sense

Mike Adams — Health Ranger (aka homeopath of the stupidest variety)

The money behind Herbalife, Mary Kay and others

New Frontier for Topics in Science: Social Media

Pat Robertson: Ugly, Nasty Women are to Blame for Troubled Marriages

Psychic accused in $25 million fraud says she is portrayed 'as some kind of monster'

Ranger, Ranger, where's the danger?

Sad News

The Skeptic's Dictionary Newsletter, December, 2012

Skepticality #198 — More American Than A Good Shag

Skepticality #199 — Another Doubtful Year

This Isn't the Petition Response You're Looking For

Total Hooey: The Strangest Non-Stories of 2012

Got some skeptic news items? Send them to us, and we'll think about adding them.

Book of the Week:
The Sun's Heartbeat: And Other Stories from the Life of the Star That Powers Our Planet, by Bob Berman.





"The beating heart of the sun is the very pulse of life on earth. And from the ancients who plotted its path at Stonehenge to the modern scientists who unraveled the nuclear fusion reaction that turns mass into energy, humankind has sought to solve its mysteries. In this lively biography of the sun, Bob Berman ranges from its stellar birth to its spectacular future death with a focus on the wondrous and enthralling, and on the heartbreaking sacrifice, laughable errors, egotistical battles, and brilliant inspirations of the people who have tried to understand its power."

— Book Description
---

This Week's Most-Viewed Pages:
Forum Topics:

Articles:

There were 6,417 daily visitors this week.
Last Month's Most-Viewed Pages:
Forum Topics:

Articles:

There were 27,122 daily visitors in December, 2012.
---
More issues of the Skeptic Summary can be found in our archive.

The Skeptic Summary is produced by the staff of the Skeptic Friends Network, copyright 2013, all rights reserved.
---
Read or Add Comments about the Skeptic Summary
Back to Skeptic Summary