Skeptic Summary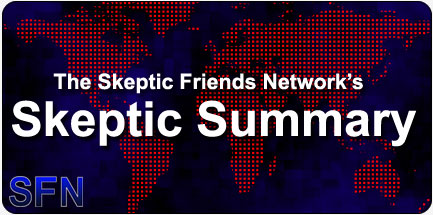 Skeptic Summary #191
By The Staff
Posted on: 6/1/2008

Mommy fish, warming, frogamander, more fossils, laughing last and more!



Week ending May 31, 2008 (Vol 5, #19)


Welcome to the Skeptic Summary, a quick week-in-review guide to the Skeptic Friends Network and the rest of the skeptical world.



Forum Highlights:
Attenborough's mother fish… - Way cool.

Global warming: True? So what if it is? - Well, we'll tell you…

Editor's Choice: The frogamander and some really lame apologetics - Yeah, but what would it sound like?

From the Archives: Favorite example of transitional fossils - Of course, if you don't acknowledge that they exist then it's hard to have a favorite…

Kil's Evil Pick:
The First Church of the Last Laugh - This site promotes one stupid religion. Honest! From the DO IT YOURSELF RITUALS page:

to acknowledge the power of stupid in your life

hold right hand palm up in front of face

say the words "that's the way he would of wanted it…"

then smack palm to forehead

"had he thought of it"

I found the link at The Skeptic's Dictionary. Robert T. Carroll may be stranger than I ever expected…
SkeptiQuote:
These people call what they do
"cryptozoology" — "-zoology" meaning
"the study of animals," and "crypto-"
meaning "shit we made up."
— Penn Jilette

Chat Highlights:
Sunday: Following the Phoenix Mission landing, Pi Approximation day. All sorts of berries, blurberries, lingonberries, cloudberries. Idiosyncrasies of the Scandinavian languages, and migration of its post-ice age people. …The report is in: THE PHOENIX HAS LANDED!

Wednesday: Chat was scattered around many small topics this week. There were math questions, bad puns and comics. Then a lot of talk on supernovas. Strangely enough, no Northern Virginia or PBS jokes were made. More on astronomy as the topic changed over to how our star would die and just how insanely awesome it would be. Getting away from astronomy, Kil got to brag once again about going to TAM this June. Bastard. A bit of a plug for Skepticality ended the night.

Come chat with us.

New Members This Week:
paiwan
jacksondbn

(Not a member? Become one today!)
---

Elsewhere in the World:
Determined bloggers who blew whistle

Does Time Run Backward in Other Universes?

Phoenix touchdown on Mars!

What's New by Bob Park

Got some skeptic news items? Send them to us, and we'll think about adding them.

Book of the Week:
Bang!: The Complete History of the Universe, by Brian May, Patrick Moore and Chris Lintott.





"Who knows what Brian May was thinking when he wrote 'We Will Rock You' for Queen? As a lifelong astrophysics aficionado, he may have been thinking about the origins of the universe. He's certainly been thinking about it lately. May, a freshly minted astrophysics Ph.D., joins forces with legendary astronomer Patrick Moore and astrophysicist Chris Lintott in Bang! to consider the history of the universe from the Big Bang to Heat Death.

Space, time, and matter were birthed 13.7 billion years ago and will continue on longer than we are able to comprehend. Infinitesimally small at first, the Universe is immense and ever expanding. Bang! explains how it all started, takes you on a tour of what is known about the evolution of the Universe, and posits how the end of time will come about.

This fascinating book includes photographs, short biographies of key figures, an at-a-glance timeline, a glossary of terms, and suggested resources for further exploration.

Based on the work of history's most brilliant scientific minds, this amazing story features clear, straightforward discussions of the most perplexing and compelling aspects of existence — from the formation of stars, planets, and other galactic bodies to black holes, quasars, anti-matter, and dark matter to the emergence of life and the possibility that it could exist elsewhere.

Pick up a copy of Bang! It will, it will rock you."

— Book Description
---

This Week's Most-Viewed Pages:
Forum Topics:

Articles:

There were 10,344 daily visitors this week.
Last Month's Most-Viewed Pages:
Forum Topics:

Articles:

There were 64,428 daily visitors in May.
---
More issues of the Skeptic Summary can be found in our archive.

The Skeptic Summary is produced by the staff of the Skeptic Friends Network, copyright 2008, all rights reserved.
---
Read or Add Comments about the Skeptic Summary
Back to Skeptic Summary