Skeptic Summary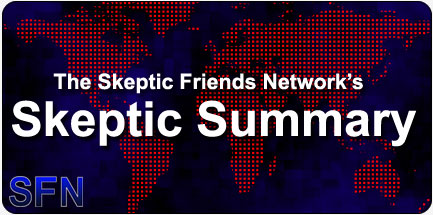 Skeptic Summary #275
By The Staff
Posted on: 3/6/2010

The pipes, the gas, the racism, the awards, the eagles and more!



Week ending March 06, 2010 (Vol 7, #10)


Welcome to the Skeptic Summary, a quick week-in-review guide to the Skeptic Friends Network and the rest of the skeptical world.



Forum Highlights:
Scattershots: Cleaning out the pipes - A crappy thread, but someone had to start it.

This ain't good… - Methane coming from… some place else.

Zooming in on Teabaggers - Investigation exposes Teabagger movement being astroturfed.

Editor's Choice: The UpChucky Awards - May not have been such a great idea.

Kil's Evil Pick:
Sutton Center Bald Eagle Nest Camera 2010 — Wouldn't it be cool if we could view an eagle nest by way of a nest cam strategically placed near an nest so that we can watch the goings-on without disturbing the eagles, on our computers? Well that's just what the George M. Sutton Avian Research Center has set up. Here is what they have to say:

Our Bald Eagle nest cam provides an intimate view of a wild Oklahoma Bald Eagle nest. Children and adults from Oklahoma and around the world can observe life in an eagle nest, and scientists can make observations that will help us better understand the life history of our national symbol.

This nest is on OG&E property at Sooner Lake north of Stillwater, Oklahoma. The original dead nest tree used by this pair of eagles fell down. OG&E, with technical assistance from the Sutton Center and financial assistance from the U.S. Fish and Wildlife Service, erected an artificial tower which these eagles have adopted successfully.

Now, I suggest that you have some patience when viewing this page. The cams are sometimes down, and there have been technical difficulties in the past. But check the site from time to time and you will be rewarded with a very cool nature experience, that would be impossible to have any other way without a considerable expense in time and money, and, dare I say it, a lot of luck…

Thanks to SFN regular Randy for alerting us to this site last year, and reminding us of it this year, in the thread he created.
SkeptiQuote:

The guiding motto in the life of every natural philosopher should be "Seek simplicity and distrust it."

— Alfred North Whitehead

Chat Highlights:
Wednesday: Chat started out in the usual way with some small talk about the weather, or cooking, or music. At least I think it did; seems as if I lost that part of the chat log. Anyways, about halfway through the night we got around to picking up where last week's chat left off, discussing having one's life defined by something (religion, Star Wars, math) and whether or not this is indicative of mental disorder. The conversation slowly morphed into a possible definition for "addiction," and chatters argued over this for a while. By this time it was already late, and chat came to a close.

Come chat with us.

New Members This Week:
There were no new members this week.

(Not a member? Become one today!)
---

Elsewhere in the World:
54 Apparitions of Jesus

Darwin Foes Add Warming to Targets

Don't knock naps, they make you smarter

GOP Fundraising Document Shows Contempt for Donors

Indian women peacekeepers hailed in Liberia

Insects are crustaceans!

Leakegate + The Australian's War on Science 46

Objective reporting and science

Robertson: "God Even Angrier with Chile than Haiti"

Smoking prevents Alzheimer's? It depends who you ask

Skepticality #122 — In with the New

Suing DAN! practitioners for malpractice: It's about time

Time for a refreshing facial of… bird poo?

To Court Blacks, Foes of Abortion Make Racial Case

Universe's Energetic Cosmic Fog Stumps Scientists

What Would Penis Do?

What's New by Bob Park

Your 3rd Grade Science Textbook As Written by Gary Busey

Got some skeptic news items? Send them to us, and we'll think about adding them.

Book of the Week:
The Drunkard's Walk: How Randomness Rules Our Lives, by Leonard Mlodinow.





"A drunkard's walk is a type of random statistical distribution with important applications in scientific studies ranging from biology to astronomy. Mlodinow, a visiting lecturer at Caltech and coauthor with Stephen Hawking of A Briefer History of Time, leads readers on a walk through the hills and valleys of randomness and how it directs our lives more than we realize. Mlodinow introduces important historical figures such as Bernoulli, Laplace and Pascal, emphasizing their ideas rather than their tumultuous private lives. Mlodinow defines such tricky concepts as regression to the mean and the law of large numbers, which should help readers as they navigate the daily deluge of election polls and new studies on how to live to 100. The author also carefully avoids veering off into the terra incognita of chaos theory aside from a brief mention of the famous butterfly effect, although he might have spent a little more time on the equally famous n-body problem that led to chaos theory. Books on randomness and statistics line library shelves, but Mlodinow will help readers sort out Mark Twain's damn lies from meaningful statistics and the choices we face every day."

— Publishers Weekly
---

This Week's Most-Viewed Pages:
Forum Topics:

Articles:

There were 23,020 daily visitors this week.
Last Month's Most-Viewed Pages:
Forum Topics:

Articles:

There were 88,814 daily visitors in February, 2010.
---
More issues of the Skeptic Summary can be found in our archive.

The Skeptic Summary is produced by the staff of the Skeptic Friends Network, copyright 2008, all rights reserved.
---
Read or Add Comments about the Skeptic Summary
Back to Skeptic Summary