Skeptic Summary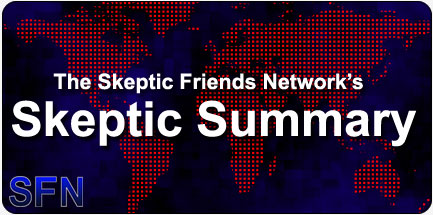 Skeptic Summary #283
By The Staff
Posted on: 5/1/2010

A slow launch, a ghost car, a massive distrust, a loss of info, an expelled movie, a strange site and more!



Week ending May 01, 2010 (Vol 7, #18)


Welcome to the Skeptic Summary, a quick week-in-review guide to the Skeptic Friends Network and the rest of the skeptical world.



Forum Highlights:
Apollo 11, Man-on-the-Moon launch - Missing bigbrain, for once…

Ghost car - More like a flimsy chain link fence.

Many things I didn't realize - Massive distrust.

Editor's Choice: Are we better off for losing certain knowledge? - Um… no.

From the Archives: Expelled: No Intelligence Allowed! - SFN talks about this non-event in ID propaganda.

Kil's Evil Pick:
Strange Science, The Rocky Road to Modern Paleotology and Biology — Whoa, do I like this site:

Ever wonder how people figured out there used to be such things as dinosaurs? Curious about how scientists learned to reconstruct fossil skeletons? The knowledge we take for granted today was slow in coming, and along the way, scientists and scholars had some weird ideas. This Web site shows some of their mistakes, provides a timeline of events, gives biographies of a few of the people who have gotten us where we are today, and lists resources you can use to learn more.

The Goof Gallery is my favorite section of the site, and for a good reason. Mistakes were made. Lots of them:

Did you ever make a mistake the first time you tried something? So did these people. Here is a collection of mistakes about living and extinct organisms. But as much as these pictures might amuse you (some are pretty funny, others aren't) try to carry a little compassion in your back pocket.

In The Lore of the Unicorn, Odell Shepard wisely observed that although few medieval Europeans saw lions, panthers or elephants, they accepted the animals' existence "upon evidence in no way better or worse than that which vouched for the unicorn." Centuries ago, no one had cameras, cell phones, or an associated press service; all anyone had to distinguish between truth and fiction was a description, sometimes accompanied by an illustration. At the very same time, increased travel led to the discoveries of elephants, anteaters, ostriches and apes. Believing too little could be as bad as believing too much.

There was another reason for the importance attached to weird curiosities. Objects believed to be unicorn horns or dragon bones were also believed to cure disease. Shepard remarked that centuries ago, Europeans "loved their children somewhat as we do ours. It was by such means as these that they tried to keep them." And perhaps most important of all, others will someday look back on the turn of the 21st century and share a good chuckle over some of our latest and greatest theories.

Including a timeline, this section takes a look at Dinosaurs and Dragons, Mammals, Sea Monsters, hominids, Earth Sciences, Plants, Birds, Monsters and Forgeries & Frauds.

There is also a very good section on Evolution that happens to be a great resource all on its own. Nicely done.

While it's true that I just discovered this site, and there is so much more there for me to see, I knew immediately that it would be my pick of the week. Go there, learn, have fun, and recommend this site to everyone you know who has even a little interest in the history of paleontology and biology. Your friends will thank you.
SkeptiQuote:

Morality is only moral when it is voluntary.

— Lincoln Steffens

Chat Highlights:
Wednesday: After years of threats and warnings, Ricky finally got fired during chat this week. Stripped of his title, blocked from his privileges, he was cast out to wander the rest of his life moderator-less. He was also rehired by the end of the night, with a reduction in pay mind you. Any who, chat started off with talk of the upcoming TAM meeting in June and Phil Plait leaving JREF to work on a TV project. Things quickly degenerated with ideas such as a Sagan tramp stamp, but were saved by politics and the Lowden plan. Use this site to see how much health care will cost you. After some more talk about health care and politics, chat ended with boycotting the Diamondbacks, the Arizona immigration law, and Kil leaving to see The Ooks of Hazzard.

Come chat with us.

New Members This Week:
Planter

(Not a member? Become one today!)
---

Elsewhere in the World:
Aliens probably no friends of yours, Hawking says

Antony Flew, 1923–2010

Axis Of Awesome — 4 Four Chord Song (with song titles)

Bill Nye Selling Out to The Man?

Can we please be done with this myth that the Founding Fathers wanted a Christian nation?

Dr. Phil fingers cheats

Episode 47 — Evolution for the Young Reader

Extremely Large Telescope — A Home For The E-ELT

Firing over creationism e-mail leads to appeal

Freethinker Sunday Sermonette: Supreme Court nominee rumor

Glenn Beck Talks to God!

The Holy Ghost Hokey Pokey

Jon Stewart on Bernie Goldberg

May two-toed sloths climb into your latrine and eat your faeces and urine, because that's the sort of thing they do

Mississippi School Erases Lesbian Student

No-name radicals vs. 'South Park' just a distraction

Ode to Joy

Pitfalls of Thinking: Anecdotal Evidence

Restore Stephen Baldwin

Saturday thumbs

Skepticality #127 — Skepticism and Manga

Teabaggers Explained: In their own words…

Time Traveler Caught in Museum Photo?

What does an illegal immigrant look like?

Your heart might say Clegg. But vote with your head

Got some skeptic news items? Send them to us, and we'll think about adding them.

Book of the Week:
Nonsense on Stilts: How to Tell Science from Bunk, by Massimo Pigliucci.





"Recent polls suggest that fewer than 40 per cent of Americans believe in Darwin's theory of evolution, despite it being one of science's best-established findings. More and more parents are refusing to vaccinate their children for fear it causes autism, though this link has been consistently disproved. And about 40 per cent of Americans believe that the threat of global warming is exaggerated, despite near consensus in the scientific community that manmade climate change is real. Why do people believe bunk? And what causes them to embrace such pseudoscientific beliefs and practices? Noted skeptic Massimo Pigliucci sets out to separate the fact from the fantasy in this entertaining exploration of the nature of science, the borderlands of fringe science, and — borrowing a famous phrase from philosopher Jeremy Bentham — the nonsense on stilts. Presenting case studies on a number of controversial topics, Pigliucci cuts through the ambiguity surrounding science to look more closely at how science is conducted, how it is disseminated, how it is interpreted, and what it means to our society. The result is in many ways a 'taxonomy of bunk' that explores the intersection of science and culture at large. No one — not the public intellectuals in the culture wars between defenders and detractors of science nor the believers of pseudoscience themselves — is spared Pigliucci's incisive analysis. In the end, Nonsense on Stilts is a timely reminder of the need to maintain a line between expertise and assumption. Broad in scope and implication, it is also ultimately a captivating guide for the intelligent citizen who wishes to make up her own mind while navigating the perilous debates that will affect the future of our planet."

— Product Description
---

This Week's Most-Viewed Pages:
Forum Topics:

Articles:

There were 12,349 daily visitors this week.
Last Month's Most-Viewed Pages:
Forum Topics:

Articles:

There were 51,311 daily visitors in April, 2010.
---
More issues of the Skeptic Summary can be found in our archive.

The Skeptic Summary is produced by the staff of the Skeptic Friends Network, copyright 2008, all rights reserved.
---
Read or Add Comments about the Skeptic Summary
Back to Skeptic Summary