Skeptic Summary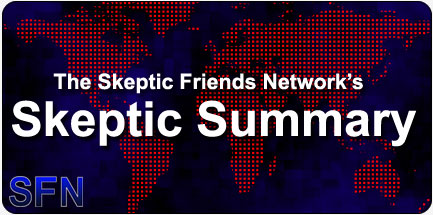 Skeptic Summary #211
By The Staff
Posted on: 11/2/2008

Motoring, biasing, warming, crashing, exploring and more!



Week ending November 01, 2008 (Vol 5, #39)


Welcome to the Skeptic Summary, a quick week-in-review guide to the Skeptic Friends Network and the rest of the skeptical world.



Forum Highlights:
Bedini motor - A new motor with over 100% efficiency that runs on lies.

Bias? - Reality has an anti-McCain agenda!

Letter to editor cites cause of man-made warming - If only we had known earlier.

Editor's Choice: Beware! - Hope everyone is okay!

Kil's Evil Pick:
exploretheabyss.com - Here is your jumping off place for picture galleries of deep-sea animals and expeditions into the deep. The pictures are breathtaking. While this is a commercial site, looking around is free. And there is a lot to look at and read. Just poke around a bit…
SkeptiQuote:

All that belongs to human understanding, in this deep ignorance and obscurity, is to be skeptical, or at least cautious; and not to admit of any hypothesis, whatsoever; much less, of any which is supported by no appearance of probability.

— David Hume

Chat Highlights:
Sunday: Chat moderator (yours truly) late, because he (I) forgot about daylight savings adjustment. TV series, and crossovers. Sailing and living in the Virgin Islands. Thorough spongebaths not meant for brother and sister, in Edmonton. Cool and hot women in Brazil. Always make frequent saves, whether working or playing games: you never know when the computer will crash.

Wednesday: Our old friend Jerome got himself a new IP address, allowing him to chat with us undetected. Thus, the majority of chat this week was spent listening to this troll's sophomoric bullshit. That's not to say that it wasn't a little entertaining, at least at first. Many tried to ignore the little prick, instead talking about Obama's 30 minute special and tips for purchasing a used car. The end of chat was focused heavily around universal health care and the economy: the difference between banks and credit unions, how to make the most off your money safely, and how to up your credit score (even when you have no money).

Come chat with us.

New Members This Week:
mariezzzz
oldcastle
Leewingfield
Leroy Jenkems

(Not a member? Become one today!)
---

Elsewhere in the World:
Foul air fallacies

Holocaust denier David Irving has found his calling

Running from HELL

Skeptics! Load your google bombs!

Turek vs. Hitchens Debate: Does God Exist?

What's New by Bob Park

Got some skeptic news items? Send them to us, and we'll think about adding them.

Book of the Week:
Deception & Self-Deception: Investigating Psychics, by Richard Wiseman.





"…Deception And Self-Deception is Wiseman's intense yet entertaining look at the world of such psychics, and a detailed report and analysis of his investigations. Deception is on the part of those who claim to see the future, have extraordinary powers, or allege they possess the gift of healing. Included are chapters on a wide variety of deception; techniques psychics use, and complete reports on his investigations of physical medium Eusapia Palladino, the ESP claims of the Society for Research in Rapport and Telekinesis (SORRAT), psychics hire by law enforcement, Indian psychics, and data from various experiments testing such psychic abilities.

Deception And Self-Deception is an important book outlining the scientific procedures that can be used to test psychic ability, or unmask trickery during an investigation. Also included is an account of the reliability of testimony related to seances, the performances of alleged psychics, and the health dangers some 'healers' present. Wiseman urges the need for responsible and scientific investigations into the paranormal, while recalling his numerous amusing and shocking adventures over the years as a psychic investigator."

— Midwest Book Review
---

This Week's Most-Viewed Pages:
Forum Topics:

Articles:

There were 8,640 daily visitors this week.
Last Month's Most-Viewed Pages:
Forum Topics:

Articles:

There were 38,001 daily visitors in October, 2008.
---
More issues of the Skeptic Summary can be found in our archive.

The Skeptic Summary is produced by the staff of the Skeptic Friends Network, copyright 2008, all rights reserved.
---
Read or Add Comments about the Skeptic Summary
Back to Skeptic Summary