Skeptic Summary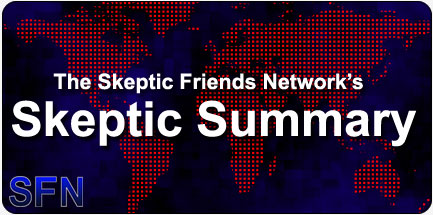 Skeptic Summary #224
By The Staff
Posted on: 2/22/2009

Darwin, Atlantis, Hitchens, Hell, appendices, memory, perception, outrage, polls and more!



Week ending February 21, 2009 (Vol 6, #6)


Welcome to the Skeptic Summary, a quick week-in-review guide to the Skeptic Friends Network and the rest of the skeptical world.



Forum Highlights:
12 Feb, 200 years since the birth of Darwin - And still no one has died nor killed in his name.

Atlantis found! - Accurate title: "Thing found!"

Chrisopher Hitchens gets beat up in Lebanon - That's what you get for having almost the same exact name as that asshole, Christoper Hitchens.

Hell, your final destination? - The latest round starts on page 17.

Hovind site: natural cure for perforated appendix - Death "cures" a lot of conditions.

Memory skill test - What are the rules again?

Perception video (this amazed me!) - It will drive you bananas!

Editor's Choice: Atheist outrage in Arkansas - Not so much outrage as relief.

This Week's Poll:
Your favorite? - A poll about poles and polls. Or is it…?

Kil's Evil Pick:
Richard Dawkins: The Genius of Charles Darwin (Episode 1 of 3) — Happy 200th Birthday, Charles Darwin!
SkeptiQuote:

For the skeptic there remains only one consolation: if there should be such a thing as superhuman law it is administered with subhuman inefficiency.

— Eric Ambler

Chat Highlights:
Wednesday the 4th: Chat started with mostly shop talk, but then got into movies such as Hudson Hawk and Star Wars. That's probably the first time those two movies have ever been uttered in the same sentence. This evolved into criticizing critics for criticizing. To quote dglas, "I liked the critics appraisal of Pink Floyd's Animals: 'A 40 minute album made in 20 minutes.'" Dave dropped by seeking math help in this thread. Many left by this point, but for those who stuck around most talk about about music: The Guess Who, Crosby Stills, Nash, and Young, and Buffalo Springfield. Things picked up again with a few stragglers stopping by for the end of chat, and podcat shared this totally awesome skeptic poem.

Wednesday the 11th: Ricky had technical difficulties. One moment he was there, ignoring me, and then he was gone. Ah, well. Several Skepticality folks showed up and wondered where the SFN people were. Me too. Ah, well. Chat centered on the economy and the need to start growing our own food, because we may need to do that soon. Several of us suggested denial as the best way to approach the difficulties ahead. It's not hard to see what an uplifting chat this was. Anyhow, we touched on many other subjects, none of which I can remember as of this writing. There was, if I recall, some talk of Elvis and @tomic's special relationship with the King, complete with visual aids. Anyhow, we had fun. Really, we did.

Wednesday the 18th: Chat started with talk and pictures of the SkeptiCamp in Atlanta. The Clone Arranger popped in for a bit and the topic changed to the "Clone Wars," a cartoon series. A falsely attributed quote led to some members puzzling over why Snopes.com does not allow viewers to select, and hence copy, text. If it's a deterrent for copiers, it isn't a very good one since anyone with enough curiosity would already know how to view the source of a Web page. Musings over this evolved into Internet design discussions. Eventually the staff got around to doing some work and came up with a new pole. We got a little more serious when talking about the recent posts by Doomar. Then, the Geologic Podcast and alcohol fermenting in orange juice. When everyone had overstayed their welcome and it was time to go home, Dave cleared the room with this joke:

Jesus comes back, and finds himself in a dance club. Seeing all the people having a great time, he starts trying to dance as well. But he's horrible at it and finally, in frustration, he cries out, "Father, I have risen and I can't get down!"



Come chat with us.

New Members This Week:
Atheria
Adams
MYSTYR B
crusadex
TinkerHell
tranquito

(Not a member? Become one today!)
---

Elsewhere in the World:
Casey Luskin: Butthurt

Facebook happy birthday Darwin group

Geologic Podcast

How your looks betray your personality

The Physics of the Death Star

The Sea Ice Affair, Continued

The Skeptic's Dictionary Newsletter #100

Skepticaly #95 — The Radford Files

Storm by Tim Minchin

Thunderf00t under attack again

Vitamin C and cancer: Has Linus Pauling been vindicated?

What's New by Bob Park

Got some skeptic news items? Send them to us, and we'll think about adding them.

Book of the Week:
The Voyage of the Beagle: Journal of Researches into the Natural History and Geology of the Countries Visited During the Voyage of H.M.S. Beagle Round the World, by Charles Darwin.





"In 1831, Charles Darwin embarked on an expedition that, in his own words, determined my whole career. The Voyage of the Beagle chronicles his five-year journey around the world and especially the coastal waters of South America as a naturalist on the H.M.S. Beagle. While traveling through these unexplored countries collecting specimens, Darwin began to formulate the theories of evolution and natural selection realized in his master work, The Origin of Species. Travel memoir and scientific primer alike, The Voyage of the Beagle is a lively and accessible introduction to the mind of one of history's most influential thinkers."

— Product Description
---

This Week's Most-Viewed Pages:
Forum Topics:

Articles:

There were 9,163 daily visitors this week.
Last Month's Most-Viewed Pages:
Forum Topics:

Articles:

There were 40,432 daily visitors in January, 2009.
---
More issues of the Skeptic Summary can be found in our archive.

The Skeptic Summary is produced by the staff of the Skeptic Friends Network, copyright 2008, all rights reserved.
---
Read or Add Comments about the Skeptic Summary
Back to Skeptic Summary